Advertising with Roseland Online would get you noticed by thousands of our unique visitors every day! Not only that, our links to your website will boost your Google rankings, so you get a double whammy when you choose us as your partner! So, what are the options?
Services Website
Having your own advertising page on the brand new RO.com services website is currently free if your business is based in one of the Roseland parishes: (St Just and St Mawes, Gerrans, Veryan, Portloe, Ruan Lanihorne, Philleigh, Tegony & Cuby). Simply go to RoselandOnline.com and 'add listing'.
As an added bonus for high profile advertisers, it currently costs just £90 a year to become a 'featured' listing, which puts your ad on the front page cycle of featured businesses.
If this is something you'd like to go ahead with, just email us your pictures/logo and some copy and we'll make a mock-up for you. Once you're happy, we go live.
Weekly What's On Poster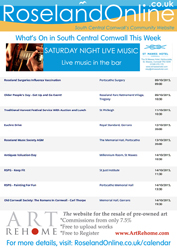 Alternatively we have now two advertising packages on the weekly What's On poster which go out to over 1300 email addresses each week and are posted on B&B and hotel poster boards throughout the Roseland and South Central Cornwall. The first is a simple listing for an event you have going on, alongside the other non-profit listings (not for ongoing business, just for single business events). This is just £5 per line/day per week.
Secondly, for a higher profile presence, we offer a Banner Ad on our What's On poster. These are normally £25 per week or a package of ten individual weeks at your discretion for just £200 (depending on availability).
Visitor & Booking Link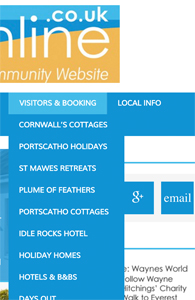 If you're in the Visitors and Booking Sector, we can offer a direct link opportunity from the main Visitors and Booking main menu direct to your website. This is great if you want a very high profile on Roseland Online and is just £300 for twelve month's listing.
Sponsored Announcement
If your event or business needs a one-off sponsored announcement, giving you a very worthwhile 'push' through our announcements listings which go out both on the website and shared on our social media feeds (Facebook, Twitter and Google+), this could be just the ticket! This one-off mention costs just £25 per post and can be run at any time. We can also offer a push of 10 consecutive announcements over 10 days for just £200.
Main Sponsor
Lastly, our highest profile advertising of all, we have a 'main sponsor' opportunity. This will see your logo permanently in our website header as a main sponsor with a link back to your website

from our sponsor's page. Fabulous profile whilst showing your support for the work we do for the community! This also includes your logo on all 52 of our weekly What's On posters… and all for just £300 per year!
Classified Ads
For individuals with something to sell for under £500, or for a business wanting to post a job listing, we offer free of charge classified listings (with a £2.50 charge for an additional picture). For items over £500 there is a £10 charge including multiple images.
Selling Your House?
We have an excellent offer for property listings. Just £75 allows a full page with images, links and details about your property or let and stays live until it's sold/let! The initial post will also be shared on our social media feeds, too! (This is not available for continuous holiday lettings).
Roseland Online is a not-for-profit enterprise and all proceeds from our advertising go back into the community and towards the site's upkeep, so thanks for helping us help you!
Just email phil@roselandonline.co.uk to discuss your individual needs and we'll get you connected to our ever expanding community and its visitors alike!