Roseland Community Transport
Find us on Facebook

Unveiling of a new bus for Roseland Community Transport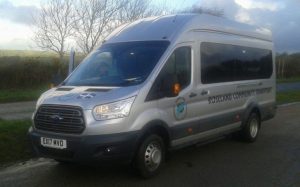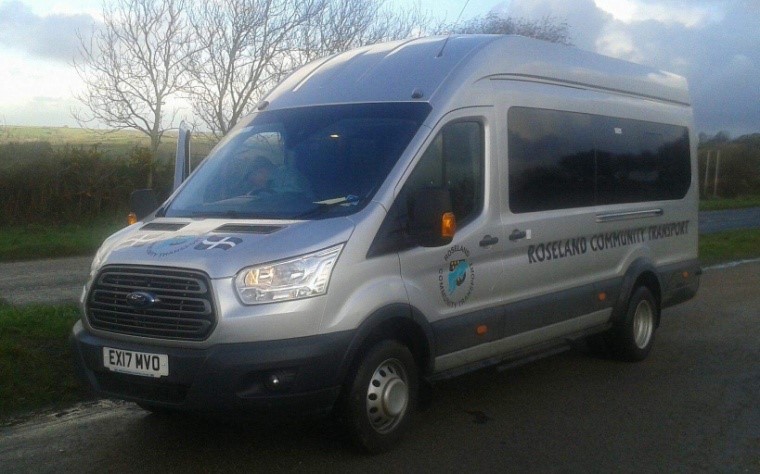 Roseland Community Transport is very pleased to announce the purchase of a new vehicle for the group.
The upgraded vehicle is a Ford minibus which can now take 17 passengers, and luggage, with semi-reclining seats and full air-conditioning.  It is suitable for rural trips around the immediate locality and excursions and travel on longer trips further afield.
How to use us
Community Groups
All types of community groups on The Roseland and surrounding parishes can hire the minibus.  Each organisation must be registered with Roseland Community Transport (no fee) before it can hire the minibus.  To book the bus please call Phil Rundle – 01872 500984
The bus is fully insured and regularly serviced.  A volunteer driver  will drive the bus, or the community group can nominate a driver.  We only allow persons who have passed a specific minibus training to drive the bus.
Excursions
The group organises regular day excursions, reasonably priced, to places of interest and events throughout Cornwall and occasionally over the border into Devon.  The excursions are advertised locally, parish noticeboards, Roseland Magazine and Roseland Online.  Passengers will be collected from anywhere on the Roseland.  To book a seat on an excursion please telephone The Millennium Rooms, St Mawes – 01326 270440
We provide a door-to-door service for individuals needing transport to attend healthcare appointments, both on the Roseland and further afield.  A set fee per mile is charged – for full details and booking – please call our co-ordinator Phil Rundle – 01872 500984
About Us
Roseland Community Transport was established in 2006 to enable individuals access to healthcare, other services and link up to major bus routes.  Local community groups soon became interested in hiring a vehicle to enable  trips and visits economically.
Today, Roseland Community Transport operates in 2 areas.
The minibus – suitable for groups to hire for use locally or further afield
The Roseland  Volunteer Car Scheme –helping individuals  by providing economical transport to healthcare appointments – GP visit, Dentists, Opticians, Physio, Podiatrist and Hospital appointments etc.
The first minibus was funded by Cornwall Transport Partnership and The Lottery.  However all the administrative and maintenance costs  and ongoing vehicle improvements accrued are funded by the group's own efforts and donations.
If you feel you would like to volunteer as either a mini-bus driver, car driver for the volunteer car-scheme or committee member, please contact us!
Contact:
Booking – Co-ordinator (Mini-bus and Volunteer car scheme): Phil Rundle  Tel:  01872 500984
Roseland Community Transport – general enquiries Administrator – Mrs Mary Symons, Treburthes Farm, Ruanhighlanes, Truro  TR2 5JP  email: roselandct@outlook.com
Or  by letter –  Roseland Community Transport c/o The Millennium Rooms, The Square, St Mawes TR2 5AG