St Mawes
On the northern of the Roseland's two points lies the village of St Mawes. Celebrated for its exquisite position, views across the Fal estuary to Falmouth and close-knit streets, St Mawes is a popular destination for the wealthy and tourists alike. It boasts some of the highest real estate on the peninsula and yet remains a thriving community.
Entering the village on the Falmouth side, you pass the St Mawes Castle – ordered built in 1542 by Henry VIII along with its sister, Pendennis Castle in Falmouth to stop the Spanish Armada from entering the Fal River. Down the windy road past the celebrated Tresanton Hotel, the coast passes some stunning houses until it reaches its bustling heart.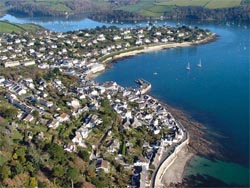 The centre has an array of shops and galleries as well as working harbour where regular trips on the St. Mawes ferry which goes across to Falmouth and a Place Manor ferry to Bohortha in St Anthony.
The village has a good selection of hotels and four bars. It also has a total of six restaurants with prices to suit all pockets and a social club which welcomes visitors.
There is also a "Great Garden of Cornwall" there as well as a garage, supermarket, estate agents and various shops including a bakery, butcher and post office.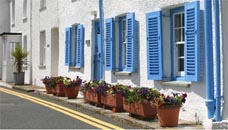 To relax, there are two sandy beaches and plenty of fishing trips to take part in as well as the harbour crab fishing; a popular kids' pastime during the summer.
Annual Events: St Mawes Regatta (Mid July) – St Mawes Fish Festival (Second week of September) Roseland Festival (End October/Begin November)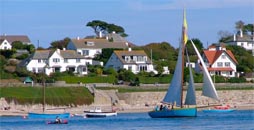 To find events and up-to-date calendar events for St Mawes, visit our Calendar Pages