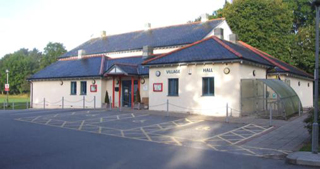 Grampound Village Hall is situated in the recreation ground adjacent to Fore Street, Grampound (the A390) midway between Truro and St Austell. The hall is behind Grampound with Creed Primary School. Satnav users: follow TR2 4SB.
The hall is owned by the charity, Grampound with Creed War Memorial Recreation Ground and Public Hall. The trustees of the charity are all local residents who administer the hall for the benefit of the local community.
On Monday to Friday daytimes during school terms, the primary school has use of the hall. In the evenings, at weekends and during school holidays, the community has use of the hall.
The hall is a venue for frequent theatrical shows; a film club runs one evening a month; regular produce markets and antiques markets are held in the hall; the hall is available for hire for groups or individuals wishing to hold regular or one-off events.
You can contact the hall as follows
By email to the chair of the hall committee
For hall bookings, contact Simon Fann: Email Simon or telephone 01726 883874