St. Mawes Community Woodland Project
Registered Charity: 300618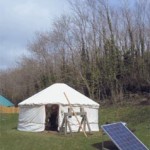 We are a registered charity that has been in existence since July 1966. Our remit is to run the Recreation Ground, which comprises of an extensive wooded valley and includes a children's play area, flat open space and a tennis court. Following recent public consultation, we identified an urgent need for more play facilities to suit the teenage children. The plans which have been developed with full community involvement are as follows;
Shelter with climbing wall
Small maze

Sensory play equipment including musical instruments
Adventure trail
Family picnic area including fire pit
Skateramp
All of the above, apart from the skateboard element, is being delivered through a series of family workshops, designed to give the children a sense of ownership and achievement.
Our estimate of the total costs is £72,000. To date we have already raised in excess of £67,000, including £50,000 from Cornwall Council's Playbuilder fund. We have a continuing programme of fund raising activities to raise awareness and community involvement in the project.
We consider this project will greatly enhance the park, whilst the workshops will pass on rural skills, emphasise the importance of sustainable building and educate about the environment. Through their active involvement in the project, the children will learn that they can be empowered to make things happen. The estimated completion date is July 2010. Activities involving children are focussed on weekends and holidays.
For further information about the project, please visit the website www.koes.org.uk.