Gerrans Parish Charity – Supporting Our Community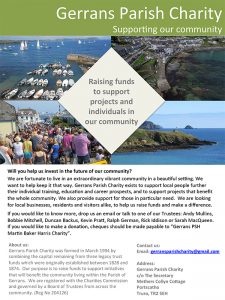 We are fortunate to live in an extraordinary vibrant community in a beautiful setting. We want to help keep it that way. Gerrans Parish Charity exists to support local people further their individual training, education and career prospects, and to support projects that benefit the whole community.
The Charity was formed in March 1994 by combining the capital remaining from three legacy trust funds, which were originally established between 1828 and 1874 for the benefit of the poor of the Parish.
Our purpose is to raise funds to support initiatives that will benefit the community living within the Parish of Gerrans.  We are registered with the Charities Commission (Reg No 204126), and governed by a Board of Trustees from across the community.
We are looking for local businesses, residents and visitors alike, to help us raise funds and make a difference.  If you would like to know more, drop us an email or talk to one of our Trustees (see details below).   We will be at the Summer Fete on Gerrans Green on 3rd June from 2pm.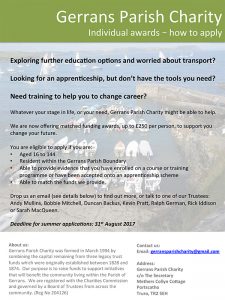 Individual Awards – Summer 2017
Are you exploring your further education options and worried about transport costs? Or maybe you are looking for an apprenticeship, but don't have the tools you need?  Perhaps you need training to help you to change career?
Whatever your stage in life, or your need, Gerrans Parish Charity might be able to help. We are now offering matched funding awards, up to £250 per person, to support you change your future.
You are eligible to apply if you are:
Aged 16 to 144
Resident within the Gerrans Parish Boundary
Able to provide evidence that you have enrolled on a course or training programme or have been accepted onto an apprenticeship scheme
Able to match the funds we provide.
Drop us an email (see details below) to find out more, or talk to one of our Trustees.
Deadline for summer applications: 31st August 2017
Do you have an idea for a project that would benefit our community?
Perhaps you have been nurturing an idea for a project for our community.  One that would benefit of benefit for all of our residents, or maybe a particular section of our community.
For example, we are currently supporting Roseland Community Transport to provide services to local NHS patients and Gerrans School to develop an outdoor learning project.
Whatever your idea, if you think that some funding would help make it happen, then come and talk to us.

Contact us:
Our Trustees:  Andy Mullins, Bobbie Mitchell, Duncan Backus, Kevin Pratt, Ralph German, Rick Iddison or Sarah McQueen.
Email: gerransparishcharity@gmail.com
Address: Gerrans Parish Charity, c/o The Secretary, Methers Collyn Cottage, Portscatho, Truro, TR2 5EH
If you would like to make a donation, cheques should be made payable to "Gerrans PSH Martin Baker Harris Charity".