St Anthony, Place & Bohortha
St Anthony and its prestigious lighthouse are steeped in history. The perfect lookout post for nearly two centuries, it was more recently the station for the American's during WWII; protecting the British mainland from invaders. The station is still in place and, below it, is the St Anthony lighthouse which proudly watches over the mouth of the Fal River and Carrick Roads as it has since 1835.
Nearby Place Manor and its church– accessible by a stunningwalk round from St Anthony's head – has been in the Spry family since 1649. It also has a regular boat service during the summer across to the northern tip of the Roseland, St Mawes. Around the grounds, memorials line the transepts, sunk among trees just behind the manor. Sculptures commemorating two Sprys, who became admirals in the Royal Navy, lie there along with a stricken figure of Britannia grieving over 18th century Sir Richard Spry; his nephew Sir Thomas was mourned by a young Jack Tar and a scantily clad maiden.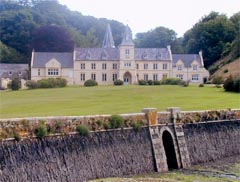 Following the walk will take one up to the quaint hamlet ofBohortha. This lovely smattering of houses sits on the hill between the north and south tip of the Roseland's southerly finger and boasts one of the Roseland's stunning ochre beaches, Porthbeor.
A circular walk of either 4½ or 6 miles can be started from the ferry landing stage at Place or the car park at St Anthony Head. Alternatively a figure-of-eight walk will take you back into Portscatho. Whichever alternative you take, there are magnificent views as well as plenty of historical and wildlife interest to enjoy along the way, not to mention an array of beautiful unspoilt beaches.
To find events and up-to-date calendar events for St Anthony, visit our Calendar Pages