MEET THE TEAM
Editor – Phil Keymer
An engineer by profession, Phil has spent most of his career in local government transport management and consultancy.  He's enjoyed a parallel occupation in IT systems engineering and support.
He and his wife Jenny live in the Churchtown Road house her mother, Peggy Pascoe, was born in.  Initially from Wales and spending the greater part of his working life in the Big Smoke, he's been living on the Roseland in Gerrans for the past 18 years, initially commuting whilst Jenny looked after her father Ian Maxwell from 2004, and then permanently for the last twelve years.  Jenny's ancestors can be traced back to the Sawles and Pascoes in the 1500s, but would go back to the earliest settlements of Gerrans and Portscatho.
Jenny and Phil have supported the local organisations, particularly St Gerrans Church, the Heritage Centre, and Gerrans and Porthscatho Old Cornwall Society, as well as the other local events.  Phil supports local websites, and provides help and assistance for many of the computers of the village residents.
He is looking forward to working with all those volunteers who help make Roseland Online a great community website, and carrying forward the remarkable achievement that Mark had in its creation.
Editor – Peter Evans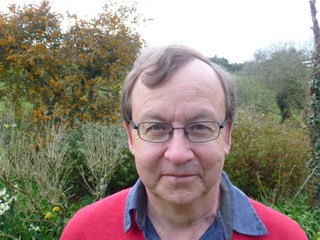 In April 2014, we were delighted to introduce you to your co-editor, Peter Evans who has been instrumental in helping keep this ever growing asset afloat.
Peter's family have lived in Trewithian for over 35 years.  After his mother died, Peter and his wife Sue renovated the cottage with a view to moving there permanently.  That dream was realised in 2013 when Peter retired after working for more than 37 years for the Foreign Office both at home and overseas.
Both Sue and Peter like walking with the dogs.  Sue runs the garden; Peter loves anything to do with the sea and boats! They have two grown up sons (one married) who are frequent visitors to the Roseland. Peter is mainly in control of our day-to-day posts including the calendar and announcements. He can be contacted on peter@roselandonline.co.uk
We are always open for new ideas and suggestions. So if you would like to join Roseland Online's growing team, helping it to give more to the residents and businesses of South Central Cornwall, Mark would welcome your contact. Email: mark@roselandonline.co.uk.
Features Editor – Susan Dew
Susan moved to the Roseland in 2012 after living in South Africa for 30 years with her husband David. When they decided to come back to the UK, David asked her where she would most like to live and she immediately said the Roseland Peninsula, remembering visits to St Just Church followed by lunch at the Roseland Inn in the 1980s.
Since being here, Susan joined the Veryan tennis club. She watched it develop with new Club House and flood lit courts and set up and administered the website for them.  Susan also volunteers at Trelissick gardens and worked in their second hand bookshop for 5 years.
Deciding it was time for a change, she applied to join the Coast Watch team and now is the features editor for Roseland Online. She loves gardening and spending as much time as I can outside with her cats, Davinci and Primrose.
Accounts Manager – Julie Saunders
Julie spent much of her life in Southampton and, with her husband Terry, took the leap of faith and moved to the other side of the world. Having spent 4 years in rural Auckland, New Zealand it was decided they would return to the UK. Cornwall was the top of their list for the next place to plant their roots and they were fortunate to encounter the Roseland Peninsular in their house hunting adventure, settling in the lovely Gerrans for the last 4 years.
Much of Julie's working life has been spent managing and mentoring staff as well taking a respite as a foster carer. Her hobbies include bespoke curtain making, soft furnishing, tailoring and dressmaking, gardening and more latterly sketching. Julie is also a keen power walker and has completed 3 London Moonwalk Breast Cancer marathons, pacing the streets of London in decorated bras at night.
Julie sits on 3 local committees and currently awaits training as a voluntary advisor with the Citizen's Advice Bureau.
Founder – Mark David Hatwood FRSA
Roseland Online was started in 2009 by Mark David Hatwood and his friend Martin. With no dedicated online community magazine for the Roseland at that time, Mark felt the Roseland Peninsula was in need a platform that would: inform the locals of what was happening in their area in an easily accessible online platform – with the speed of instant updates; help promote Roseland businesses; and to help promote the area's outstanding credentials worldwide through the internet in an unbiased way.
As a not-for-profit enterprise, Roseland Online has grown steadily to become a much-used community resource and in 2011 expanded to support all 15 parishes of South Central Cornwall, including  Cuby, Gerrans, Grampound with Creed, Ladock, Mevagissey, Philleigh, Probus Ruan Lannihorne, St Ewe, St Gorran, St Just in Roseland, St Michael Caerhays, St Michael Penkevil, Tregony and Veryan.
Its steady growth means it now regularly enjoys up to 30,000 hits and 2650 unique visitors per day. Because of this success, Roseland Online continues to reinvent itself with a new look and extra features. Improved navigation and interactivity keeps it in touch with our growing communities and has made it even more accessible to everyone, both locally and worldwide.
Roseland Online has a growing team of volunteers including 10 feature writers, local sub editors and a host of contributors. It also reinvests its profits back into the community, helping local sports teams and community groups prosper. In its first 10 years alone, Roseland Online has raised in excess of £65,000.
It's founder editor-in-chief, Mark David Hatwood, has also used Roseland Online's platform to spearhead many community initiatives, working with companies like BT to oversee the roll out of Superfast Broadband for the Roseland.
Mark himself runs a successful fine art gallery in Portscatho, The Harbour Gallery as well as two online galleries, BritishContemporary.art and ArtRehome. He is also a script and novel writer and was in the music business for 35 years, writing for many world-renown acts (more here). After running a UK wide non-profit recycling initiative, Mark was offered an unconditional fellowship of the RSA in 2010.
____________________________________
Testimonials:
"Roseland Online has been extremely active in campaigning for superfast broadband across the Roseland peninsula. They have raised awareness of broadband issues across the peninsula, and acted as the focal point for residents and businesses to register their interest. Roseland Online have engaged with Superfast Cornwall in a highly positive and effective way, highlighting the areas of demand and exploring the opportunities for rolling out as much superfast broadband as possible. They take the holistic view, and their key motivation has always been focussed on the potential benefits for the community as a whole. There is no doubt that such an enthusiastic and positive engagement with the Superfast Cornwall programme will ensure that the best possible solution within the parameters of the programme is delivered to The Roseland." 
Julian Cowans, Programme Manager, Superfast Cornwall – Cornwall Development Company
____________________________________
"St Just in Roseland Parish Councillors are always keen to keep members of the public up to date with what is happening in the parish. Publishing the agendas and minutes of the main parish council meeting on Roseland Online is a valuable addition to the monthly article in the Roseland Magazine and will provide a more detailed insight into the work of the parish council. I hope that having access to the agenda through Roseland Online will encourage people to come along to a council meeting and find out more about the work of the Parish Council."
Cllr Mrs. Chris Williams, Chairman of St Just in Roseland Parish Council