In the 'good ol' days' wedding cakes consisted of three tiers of fruit cake covered in icing sugar with bride & groom figures sitting on top… but times they are a changing!
Now, there are these options to consider: A traditional or contemporary fondant iced cakes (the good ol' option), a Chocolate Wedding Cake, individual cakes or cupcakes or maybe a Croquembouche profiterole cake.
For something more unusual, like an evening reception you might consider a cheese wedding cake, a chocolate fountain, a dessert style cake or anything else you can think of to make tour wedding unusual!
Choosing Your Cake
The key considerations when choosing a cake are your personal taste, both for the cake filling and style of the cake. Also consider your venue or location: a more relaxed country venue does suggest a less formal cake. Safety considerations need to be thought of. More example, will there be children at the venue? If so, make sure you don't place it on a wobbly marquee table. And if you're worried, why not opt for stacked tiers on lots of carefully balanced tiers rather than cup cakes, which could topple?
If you have few guests or are on a budget, choose a cake that works well with just two tiers. And don't be tempted to cut corners and buy three 'normal' cakes and sit them on top of each other. The weight will probably make the bottom cake billow and will ruin the effect completely!
Colour schemes are important too. A carefully chosen colour is a great way to add a splash of colour to your reception.
Tips for Choosing Your Wedding Cake
Choosing a wedding cake often seems like an easier process than it actually is. After all, the only thing you really need to do is to make sure that the cake you choose looks and tastes appealing. Additionally, it can be more difficult than perhaps it ought to be to find wedding cakes that taste as wonderful as they look! So, in order to help you to prepare for the process of finding that special cake for your upcoming wedding, here are a few helpful tips.
Research Online – These days, everything is online, and bakery reviews are included. Of course, at some point you will need to visit the store or bakery you choose in person, but when you are first starting your selection process, you ought to do at least some online research. On different sites, you can see images and descriptions of the different cakes offered, as well as customer reviews and feedback. These things can help you to get a good idea in advance of whether or not to trust a baker.
Sample The Taste – When purchasing a cake, do not assume that getting a taste sample will be complicated. Wedding cake stores and bakeries are perfectly capable of supplying you with samples of the flavours that will be in your cake, and it is important that you and other people prominent in planning your wedding try these samples early in the process. Many wedding cakes look incredible, but do not taste particularly nice. A quick sampling session can help you to ensure that your cake doesn't follow this trend.
Consider Image – Naturally, a wedding cake is supposed to look fairly spectacular for a cake – but you might also want to think of it as something of a decoration. In most wedding receptions, the cake is displayed prominently, which means that it is important for it to blend in well with the style and decorations at your wedding. In fact, some wedding planners even suggest you match the cake specifically to the bride's dress, or the bridesmaids' outfits! Whatever the case, be sure to picture the cake at your reception before purchasing it.
Allow Adequate Time – Finally, when considering all of the tips listed above, be sure not to wait until too late to actually start looking for the right cake. You may have to go through more bakeries than you expect, and planning a wedding is a very busy job. It's always best to get as many things out of the way early as you can, and having the right cake crosses a major item off of your list.
Traditional cakes
When you conjure up images of a traditional cake, you're probably think
ing of the 'good 'ol' fruit cake with marzipan and royal icing; something from your parent's era. Despite many 'new cakes on the block' traditional cakes are experiencing a big resurgence, with smooth fondant icing replacing the royal icing, making them easier to serve and offering greater design flexibility.
Most wedding cakes are white or ivory, however fondant icing can be coloured or flavoured to your taste and a range of white chocolate and milk chocolate fondant icings have become available of late.
Fruit cakes usually have a layer of marzipan under the icing sugar, but as
marzipan serves no real purpose other than to flavour, if it isn't to your taste, simply leave it out.
Chocolate cakes
Sponge or chocolate cakes, too, can be covered in fondant icing, giving the impre
ssion of a traditional cake. These are quite a popular choice for many couples and are guaranteed to be popular with your guests – especially the kids! White Belgian chocolate curls and fresh flowers can give a traditional look, or a smooth glossy dark chocolate ganache forms the base for many contemporary designs. The most recent designs incorporate chocolate transfers to add a very modern twist.
Cupcakes & Individual cakes
Cupcakes were the in-thing in 2010 and designs were constantly being up dated to prolong the trend. In 2011, though, bigger American style cupcakes with a whirl of butter cream and a simple decoration became more popular. For those with heftier budget, individually iced single cakes became popular which were displayed with a larger top tier for ceremonial cutting. So who knows what will be in trend next? The Roseland Online Wedding Planner has a few examples for you below:
Croquembouche
Croquembouches is a traditional French wedding cake and have become well established as an option in the UK. Made from light choux pastry and filled with crème patisserie, the individual profiteroles are held together in tower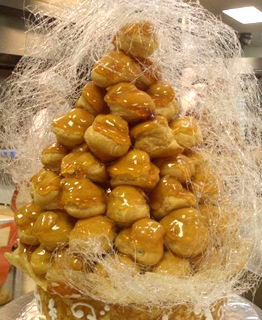 and coated with sweet caramel.
Croquembouches must be made on the morning of the wedding, so you'll need to order early. And remember; the humidity in a marquee can cause problems with softening caramel, so discuss this with your cake supplier and venue in advance if you're using a marquee. And if you don't want one as your main cake, how about serving it as one of the dessert options at your reception?
Chocolate Fountains
Chocolate fountains with dark, milk or white chocolate are a treat for everyone. You could even colour the chocolate to match your wedding colour scheme! Chocolate fountain companies will provide a selection of dips and an unlimited amount of chocolate in their price and would be used from the beginning of the evening reception until the entertainment is well underway.
A few venues might have their own chocolate fountain – so ask – but if they don't, search out some local specialists offering hire packages. A DIY option might also suit you, but you'll need a responsible volunteer to set it up and keep an eye on it during the evening's proceedings. Of course there's the fully staffed option, where the fountain comes complete with its own attendant, but this, of course, will cost much more.
Hire Inclusions
Your hire will probably include around 10 kilos of chocolate and a small selection of 'dips'. You might want to add your own favourites like fruit, profiteroles, cookies marshmallows or doughnuts. You'll need to find a five foot circular table close to a power-point to house it, and, depending on your option, the hire company may provide a member of staff to operate the cascade for your guests.
It's also possible to get flavoured chocolate, like orange or lemon, in addition to the more traditional milk, white and plain chocolate.
Cheese Wedding Cakes
For those with a savoury tooth, another 'new cake on the block' is a sophisticated cake of cheese. Such a 'cake' would be made entirely from slabs of cheese and decorated with unusual fruit and vegetables and would be served in the evening with fresh French loaves. Of course, if you want it served by your caterer, expect to pay an extra service charge for this and tell them in advance.
Savoury wedding cakes are a great option for an evening buffet and could even become a central focal point of the wedding reception allowing guests to help themselves to the different tiers of cheeses. They can be decorated with fresh fruit, vine leaves, and served with a selection of crackers.
Additionally fresh breads and chutneys can turn your cheese wedding cake into a ploughman's for those guests needing extra sustenance throughout the evening's celebrations. The most popular cheeseoptions are Cheddar, Stilton, Red Leicester, Double Gloucester, Lancashire and Wenesleydale with either cranberries or apricot
Cake Stands, Swords & Cake Boxes
Standard cake stands are 16 inches in diameter. Most wedding venues have their own cake stand, though it will probably be a basic plastic one covered with something to make it look silver. This will suffice for most weddings, but if you can track down a silver plated stand they are worth the additional cost.
Silver plated stands are available in a few of the more exclusive venues, or you can hire them from cake suppliers. Most couples cut their cake with a traditional cake knife. To add an air of panache, though – particularly with the ornate French croquembouche – why not hire a ceremonial sword? Again, advice on this can be sought from your cake supplier.
Kelly's Kitchen & Cakes – 07875 924146
Simply Cupcakes – 07530 554493