South Central Cornwall and the Roseland Peninsula is blessed with many wonderful locations to get married. Whether a traditional church wedding in one of our beautiful parish churches or a stunning house by the sea like the Rosevine on the beautiful Roseland Peninsula, you'll find the complete how-to here and the contact details for everyone you'll need to get in touch with to make your wedding a day to remember.
Churches
Our catchment area boasts 25 village churches. From the renowned St Just in Roseland church with its waterside gardens spilling into the Fal estuary, to the countryside church at Creed, it will be hard to find any area in the UK more blessed with choice.
But what are the rules to getting married in a Cornish church?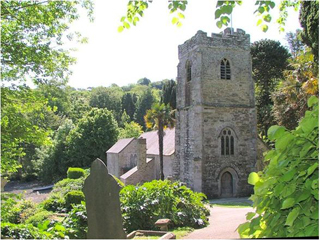 Anyone who lives in parish has right to use their parish church as long as they are have not been divorced and previous spouse is still alive. Divorcees may be allowed to marry at priest's discretion, so it's always worth talking to a priest if you're in that category.
People who don't live in one of our many parishes may qualify if they have a link to a certain parish. For example if they were born there or their parents were married there, etc. Only one of couple needs to have this connection so have a look through your family history and see if there's any connection before speaking to one of our priests.
And if someone lives in a parish whose church doesn't have a weekly service, couples can get married in an adjacent parish church.
A third option is available to those who have no connection to the parish. It is imperative though that you first speak to the priest in charge of the parish you'd like to take your wedding vows in (see entries below). It is at their discretion entirely, so don't think it's a foregone conclusion that if you adhere to the following rules, you'll be allowed to get married here anyway.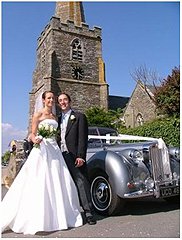 Those that are granted permission will need to obtain a bishop's common license. Either the bride or groom (both isn't a necessity) will also need to reside in said parish for a minimum of 15 days beforehand and have their 'bands' read for the three Sundays previous to the ceremony (e.g.: if someone had their first band read on the 1st day of their stay (a Sunday), then two consecutive Sundays and were married on the Monday thereafter, this would account for the minimum 15 days).
Alternatively they could attain a superintendant's register certificate. With this they must only reside in the parish for 7 complete days, which excludes their arrival and departure days. They would need to talk to the superintendant registrar and the priest well in advance of this, of course, to obtain their blessing. Remember, though, it is not a foregone conclusion that you will be allowed to be married here; you must be prepared to be polite and negotiate!
The costs involved vary, but as a rough guide it will be somewhere between £300 & £500. This covers the following costs
The Wedding Bands
Marriage certificate
Organist
Bell ringers
Heating
Verger
This is just the basic costs, of course, and things like photography, videos, carriages, etc would be on top.
The right contact for the churches at Caerhays, St Michael, Cornelly, Creed, Gerrans, Gorran, Gorran Haven, Grampound, Ladock, Lamorran, Mevagissey, Philleigh, Portloe, Probus, Ruan Lanniorne, St Erme, St Ewe, St Just in Roseland, St Mawes,St Michael Penkevil, Sticker, Tregony St Cuby, Tresillian & Veryan can be found by following this link: www.achurchnearyou.com
For Portscatho United Church, the contact details are here, and for St Mawes Roman Catholic church you'll find all you need by clicking here.
Alternative locations
To get married in other less traditional locations throughout South Central Cornwall, you'll need to contact the local registry office. Alternatively you can talk to managers of location where you intend to marry to find out if they have a license. Many hotels and more commercial locations in South Central Cornwall already have a license and the ceremony can be carried out by a registrar. However, this is only marriage by law and no religious ceremonies are allowed to be performed by registrars nor be present at the ceremony.
Here is a list of some approved venues in our area:
• The Vean, Caerhays Castle, Gorran, St Austell, Cornwall, PL26 6LY
• Hotel Tresanton, Lower Castle Road, St. Mawes, TR2 5DR
• Lamorran Gardens, Upper Castle Road, St Mawes
• Woodland Valley Farm, Ladock, TR2 4PT
• The Rosevine, Rosevine, Portscatho, TR2 5EW
• Rosteague, Portscatho, TR2 5EF
• Smugglers, Tolverne, Philleigh, TR2 5NG
• St Mawes Castle, St Mawes TR2 5AA
• The Lugger Hotel, Portloe, TR2 5RD
If you decide on using one of these options, a priest can do a blessing at any church once you're married, so this may be an easier option than opting for a church marriage, but, once again, you'll need to negotiate with the priest in charge. This option would look and feel the same as your church wedding, but won't have the official necessities, so doesn't need the same stipulations as a pure church ceremony.
To speak to a registrar, you can contact Cornwall Registration Service here: Dalvenie House, County Hall, Truro. By phone under: 0300 1234 181, or by e-mail: registration@cornwall.gov.uk. Alternatively you can visit their website: www.cornwall.gov.uk/registration
Documents
When you give notice of your marriage, the following documents must be produced. All documents must be originals, the registrar cannot accept photocopies
• Current valid passport or a full birth certificate. Please check with the Registration Office when making your appointment to give notice.
• Utility bill, driver's licence, rent or council tax document, as proof of residence.
• Persons from abroad are required to produce identity documents, eg, passport, identity card, Home Office travel documents. Persons subject to immigration control will need to get additional documents. For more information please contact the Truro Office on 0300 1234 181 or the Home Office at www.ind.homeoffice.gsi.gov.uk
• Persons under 18 years of age must submit written consent from the appropriate parent/guardian/authority. The Registration Officer has forms for this purpose.
• Widowers or widows must provide proof of death of their former spouse or civil partner in the form of a death certificate certified by a Registrar.
• Persons who have been married before or party to a previous civil partnership are required to produce a decree absolute or a final order of dissolution of a civil partnership bearing an original court seal. If the divorce/dissolution took place in a foreign country, the original document should be produced, and if applicable, an English translation. Some foreign divorces/dissolution require clearance from the Registrar General and the Registration Officer can arrange this.
• If a name has been changed by deed poll or statutory declaration then these documents should be produced.
• A fee is payable to give each notice.
Lamorran Garden – 01326 270800
Rosevine – 01872 580206
Rosteague – 01872 580346