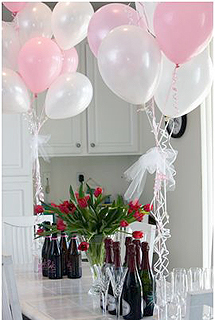 Our wedding is one of the most important events in our lives. For most it's a one time opportunity to 'splash out', so it needs to be special and memorable. Almost all wedding ceremonies these days are either recorded on photographs or video film so we want it to look as perfect as possible and decoration is an important part of that 'look'.
Traditional Wedding
Consider space when making your choices. If it may hinder the movement of the guests then it won't serve the purpose well no matter how good it looks in an empty room. Decorations should give enough space for the guests to move around freely and mingle. The guests' line of sight to the bride & groom should be clear, too as everyone wants to see the wedding ceremony and speeches.
Make sure you budget well for the smaller items as well as the bigger ones. It's the smaller details that can soon add up if not planned properly. Also think about the time required to achieve these little extras as they may not all be achievable in them time you have.
Consult with your photographer and videographer as to the look of the decoration may look good in to you but could end up impeding on their view or not look good on screen. The professionals have a good knowledge of what looks better on video or in photographs so it's important you listen to their suggestions.
Lighting can make or break the look of a room. Again, consult with your professionals about that before you make any choices. If you're at a venue that does lots of weddings, the professionals make well have worked together so this can make things a lot easier for you.
Themed Weddings
If you decide to go down this route it's important that every participant at the event is comfortable with the theme. Whilst consideration should be given to the profile of the participants, the venue, surroundings and weather should be taken into account to blend with the theme. It's no good holding a 'horror' themed wedding in a graveyard, for example, if it's going to be pouring down the whole day, so choose wisely.
The theme shouldn't overshadow the meaning of the wedding day, either. The theme should be there to add your own uniqueness to the event, not overshadow it completely. Decoration can be made to enhance the wedding ceremony by blending the theme with the ceremony but you shouldn't compromise on the spirit of the event just to make the decoration more interesting.
Consider professional help when going down this route. They will help you make sure everyone has got your vision clear and professionals have are well versed in these things and can be of great help when it comes to decision making and budget planning for the event.
The colour scheme, materials and costumes should all be in sync with the theme and shouldn't take centre stage. While the theme can be reflected in the decoration, it should only be there to compliment the wedding; you want the theme to add a fun element to the event and not be a shock!
Whatever wedding you're planning, decoration does give colour to the event. If proper planning and execution is achieved the event can be memorable for not only the bride and the groom but also for the guests.
DIY
Many brides these days like to be involved in their wedding extras. A great way to do this in South Central Cornwall – especially if you've chosen a church wedding and have to be here for a week or two before the day – is to do some of the many craft workshops on offer.
People like Lou Tonkin hold courses which are a great way to for you to personalise your wedding table decorations, invitation cards and even cake decorations.
It's also a wonderful way to get your bridesmaids involved on maybe your hen weekend and will be not only fun, but save you money on the little things that can easily add up.
We have a whole section on DIY Weddings, which, for the more adventurous, is a fabulous way to make your wedding a more bespoke and personal affair.