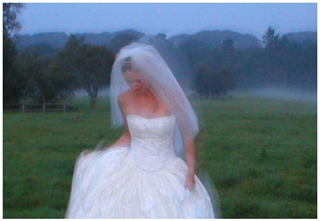 Shopping for your wedding dress is probably the highlight of your wedding arrangements. There are many options for you to consider when shopping for a dress and we've listed a few of these below.
Off the peg
The majority of bridal gowns sold in the UK are 'off the peg'. Examples of these you've probably seen in a bridal magazines and stockists, or at a local bridal boutique.
The way this works is you'll try on a sample of the gown in the shop. They take your measurements then order the nearest size which is delivered to their store for precise alterations to fit your figure. You'll then be asked back for a fitting.
Designer Dresses
Bridal boutiques also stock collections of gowns made either from their own 'in-house' designer and/or from a number of 'famous name' designers. The more famous the name, the easier it would be to sell after the wedding should you decide to go down that route.
There are many designer names in Britain. Their gowns cost anything between £1500 and £4000. Each one has their own unique style so, like your favourite fashion store, if you like one gown from a particular designer, you'll probably find that their entire collection will appeal to you. Rather than using stockists, though, these big designers tend to have their own boutiques who sell just their own range.
If you're considering selling a designer wedding gown after the wedding, you'll need to be prepared to part with it as soon as possible after the wedding if you're to get the best price for it. And if you are planning to use an agency to sell your gown, let them know as soon as possible the date it'll be free so they can pre-sell it for you because Designer gowns lose their value as soon as they are no longer 'this season's' design.
Made to Measure

If you're planning having a made-to-measure dress, it's a good idea to spend some time trying on different styles.
Choosing a dress from a picture or paper pattern won't give you a definitive idea of what it looks like on. That said, remember dress designs are protected by copyright and you're prohibited from recreating an exact copy of any designer dress.
Consider combining different aspects of different dresses; maybe the skirt of one, the neckline of another, and the train of a third. Allow at least six months for your dress to be made and remember: check the costs for last minute alterations, especially if you're planning to lose weight before your big day!
Samples
At the end a season, bridal shops may well sell end-of-line samples at discounted prices. Discontinued lines will be included in their sales and popular designs that are too marked or damaged will be there alongside them. But don't expect to find a spotless sample of a popular design; the popular dresses aren't discontinued and the samples will be kept until they are too damaged to use.
If you choose to buy a sample dress then you'll have to accept any damage it may have sustained when tried on in the shop by previous prospective buyers.
Refrain from going to sample sales, though, if you want the full 'bridal boutique' experience. In the main, gowns are sold at cost-price so there is little or no profit margin for the seller, so shop owners won't want to spend hours with you as they normally would and you'll almost certainly have to pay for and collect the dress on the day of the sale.
Used Dresses
There are several places to buy used dresses. In the main, the dresses on sale at these shops are designer gowns and you
'll have the peace of mind that you're buying from a business with a reputation, rather than an individual, so the gown should be exactly as advertised.
If you're feeling brave, you might like to bid for a dress on an auction site like eBay. Some dresses advertised there haven't even been worn, and you may even find a style that you've tried on in a bridal boutique but couldn't quite afford. This will need to be altered, though, so bear that in mind when buying.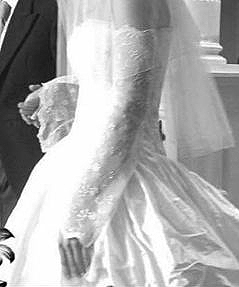 If you're planning to sell your gown on eBay, take all the photos of the dress before your wedding day so that it's ready to get online right after your wedding. You may need to add extra photos if the dress has picked up any damage or marks when in use.
Buying online is a great way to find a designer dress at a bargain, but if the dress has been altered, make sure to ask questions about the height an
d shape of the bride who was wearing it before. It could have started life as a standard size 14, but had several inches taken off the hem or waist, so make sure you do your homework!
Bridesmaid's Dresses
Having chosen your bridesmaids, maid of honour and flower girls – hopefully without offending too many friends and relatives! – your next dilemma is the bridesmaid's dresses. If you have an older Maid-of-Honour, she'll be concerned about looking like mutton dressed as lamb, so consider that when choosing the dresses, too. The younger bridesmaids and teens will probably look good in most things, so it might be worth working age downward when making your decision.
Bridesmaid's Shoes
After patting yourself on the back for successfully navigating the tricky issue of bridesmaids dresses, it's time to face on the next dilemma; your bridesmaids shoes and, more importantly, whether they should wear heels or flats. While flower girls are usually delighted with strappy flat sandals or ballet pumps, older bridesmaids may feel uncomfortable in those, so, once again, regardless of whether they will tower over you in heels, it may be prudent to consider everyone's feelings.