When picking entertainment, let's start with your budget. Once you've costed the main wedding you can then start to think of how you'd like to entertain your guests with the remaining budget.
Music
The musical entertainment could be as simple as a DJ to something more abstentious as a string quartet. There are plenty of choices and we'll try to give you some ideas here, but, as always, it's down to your taste.
As you step out of the Wedding Carriage, you could choose to be joined by a Cornish Piper, dressed elegantly in a traditional Cornish Tartan and leading you into the ceremony. He could also play during the signing of the register and pipe you out after the ceremony and/or into the reception. Remember, you don't need to be Cornish to engage a piper.
Alternatively, if you're having the ceremony at one of South Central Cornwall's many historic castles or stately homes, Medieval Minstrels may set the scene better.
In the venue, a Harpist, String Quartet, Vocalist, Solo Classical/Spanish Guitarist may be more your thing. Or, if you're in a church, an organist playing might be more traditional as you and your guests arrive and during the signing of the register. Ask your vicar about this when you speak to him; it may be included in the price of the church.
You might like to employ a solo vocalist, duo, or full choir who can be an alternative to the musicians, or work together with them. But you need to check with them if this is something they're comfortable with; if they usually come as a separate package as they'll need to rehearse with each other which will hike up your costs.
If you are having a Civil Ceremony it's possible to have a Gospel Choir as long as they have a non religious repertoire, which they're allowed to do at such an event. But check with your registry office.
Whilst eating, family and friends will want to chat and enjoy their meal so the entertainment should be only background here. Again, a Harpist, String Quartet, Vocalist, Solo Classical/Spanish Guitarist Jazz Band, or a DJ, are a few choices you might like to consider. And if you're having a themed wedding in of the many period or a medieval venues in South Central Cornwall, why not consider some Medieval Minstrels?
Traditionally the evening reception is the longest part of the day and has the largest population of guests so musical entertainment is essential. A DJ or live band or better still a combination of both is the most popular choice at these occasions.
There is a choice of bands available in South Central Cornwall from Jazz, Soul and Pop & Rock, etc. Most 'covers' bands will play two sets of music up to a max of 1 hour per set which leaves a few hours to fill, hence the need for a DJ. Some bands may even offer a DJ in their package or know of a good one, so it's worth asking.
One thing to avoid is your local 'favourite band'. They'll probably only do their own material which may be fine for you, but when you've got children, parents and older guests, it's unlikely they'll have the same tastes and may become bored quickly and end up either leaving early or standing in the bar, so be careful with your choice here.
You could ask your 'favourite band' to play one or two songs between the 'main' band, but you'll need to consider space for their equipment if you take this route as the 'main band' probably won't take kindly to others using their equipment – especially without prior notice – so check first.
Other Entertainment
For many couples, their wedding is more than the ceremony and meal; it is an opportunity to really celebrate and give their family and friends a day to remember. It's the little touches that can make a big difference and for a few hundred pounds, you can hire professional entertainers and small events to help customise your wedding reception.
Fireworks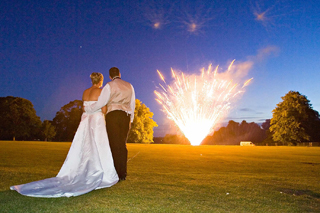 What better way could there be than to end a wedding reception with an explosion of fireworks into a moonlit sky…? And it's a perfect way to lure your guests outside and a fabulous backdrop to be waved away from your reception. However there are a number of issues to consider, not least whether your venue has sound restrictions, so, once again, before booking anything like this, check with your venue first.
Remember though, it will be your responsibility to liaise with local authorities and the venue, arrange insurance, ensure that health and safety procedures are adhered to and that there are suitable barriers. And you'll need to put by a minimum of £600 for a decent six minute professional display.
Some firework companies can supply self-fire packages which will give a display lasting up to 2 minutes from a single ignition which would cost much less, but you would need to purchase fireworks that conform to British Standard, from a reputable dealer and follow all safety guidelines.
The exact content of a firework display will depend on your own requirements and on the nature of the site. Ideally the display site should be 50 metres long and 25 metres wide for the fireworks themselves, with a fall-out area clear of marquees, cars, etc. as display fireworks produce quite a bit of debris and ash. Many firework displays reach heights of 100 metres and care should be taken to avoid areas with overhead power cables, trees etc. Your guests should be 50 – 75 metres from the nearest firework, with the wind travelling from the spectators towards the fireworks.
There is a noise limit of 120 decibels for category 3 fireworks, which are the most powerful fireworks available to the general public. New laws were imposed in October 2004, these were primarily aimed at anti-social use of fireworks, including on the spot fines of £80 for 'loutish behaviour'. The new Curfew bans the use of fireworks between 11pm-7am. This is extended to 2am-7am on certain nights, though, such as New Years Eve, Chinese New Year and Bonfire Night.
Magicians/Caricaturist
Guests of all ages love the novelty of having a caricaturist or a magician present at your reception. Some magicians like to work around the tables while guests are eating. This is a good way to keep your guests occupied in between the courses and break up the chats a little (they may be glad of the distraction if they're sitting next to boring Uncle Colin!)
Other magicians will entertain guests while they enjoy the drinks reception, and some prefer to be based in a "quiet area" away from loud music, to allow guest interaction and to give the older guests a chance to wind-down if they wish, so ask your magician beforehand so you can plan who you'd like to book and where you'd like them to be.
Casinos/Gaming
A really special idea for your evening reception is a mobile casino. Professional companies allow your guests to play using tokens. And, whether roulette, blackjack, poker, the casino staff will be pleased to teach your guests the basics of the game, enabling those who have never played before to join in the fun.
Childcare and Crèches
Even the best behaved children will eventually become bored at a wedding, so if you're having a fair few, for their sake, and the sanity of their parents (one of the most common reason for parents leaving the celebrations early) you might consider a professional crèche or childcare facility as an idea. Many reception venues have special rooms adjacent to the main reception specifically put by for this purpose; a place where children can blow off steam, play with the crèche staff or even take a nap.
Other options to consider are the services of a Children's Entertainer. This can be in the form of a Magician, Face Painter, Clown or the old favourite: a Bouncy Castle.
Chinese Lanterns
In South Central Cornwall, Chinese Lanterns aren't recommended. There have been instances of crop fires and danger to livestock so it is much appreciated by local farmers if this isn't a consideration here.
Atlantic View Jazz Trio – 01726 882784
Fascination Duo – 01726 882784
Freq Audio Systems – 07817 488589
Melegari String Quartet – 01726 884664
Wedding Pianist & Singer – 01726 882784