Murder in the Family by Cara Hunter
Published by Harper Collins, 2023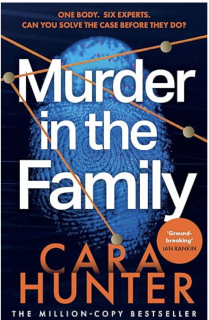 A highly original format coupled with a clever plot, this book is more complex than anything I've read since I was doing academic research.
Luke Ryder was killed in the garden of the upmarket London home he shared with his wife and her children. The murderer was never identified.
Fast forward twenty years and his stepson, TV director Guy Howard, keen to find out what happened, revisits the scene and, via a six part docu-drama, considers the evidence and testimony and interviews those involved.
A team of "experts" consider the information in the hope of reaching a conclusion and finding closure for Guy and his sisters.
This is a real page turner. I lost count of the number of plot twists and I confess I'll have to read it a second time (or maybe a third) to grasp all the detail and work out who's who, never mind whodunit.
I'm in awe of the author and how she managed to keep track of the characters and the slow unpeeling of the experts' findings.
Masterly.